We may be told not to, but we do judge books by their covers.
And why shouldn't we? Based on the cover of a book, we get an idea of the genre and content, and then decide if the book is worth opening and reading. 
The same is true for email. 
We do, in fact, judge email messages (and decide if they're worth opening) by their subject lines (33% of email recipients report opening emails solely on the subject line).
Which means that the subject line is arguably the most important element of every email you send.
They may be short, but subject lines are definitely not easy to write.
The good news is that the art of writing subject lines can be learned and gets easier with practice.
Here are 12 ways you can supercharge your subject lines and make sure the emails you spend so much time crafting are opened and read.
1. Personalize and Localize
"Personalisation – it is not about first/last name. It's about relevant content."

~ Dan Jak
Emails that include a personalized subject line are 22.2% more likely to be opened.
Using the recipient's name in a subject line isn't a bad idea, but there are more effective ways to personalize your subject lines.
As long as it's true, including "referred by" or referencing a mutual connection, can help improve your open rate:
"Referred by Katie McCormick"
or
"Eric Klein recommended that I contact you"
You can also try creating different subject lines for audiences in different locations. 
For example, if your company sells hoodies, and it's August, you can target and appeal to a San Francisco audience with a subject line that reads:
"Beat the summer fog. Warm up with a fleece hoodie."
If you're targeting an audience in Chicago, your subject line could read:
"Cooler weather is coming! Get ready for fall with a fleece hoodie."
2. Tell Them What You Want Them To Do
"Your call-to-action represents the tipping point between bounce and conversion. When you ask someone to do something online, they have to go through your call-to-action in order to do it – regardless of whether you're asking them to download a PDF, fill out a form, buy a product, or even just click through to another page."

~ Michael Aagaard, Unbounce
It's not enough to send an email that tells people about your wonderful product. You want them to buy your product.
Which is exactly what you have to tell them.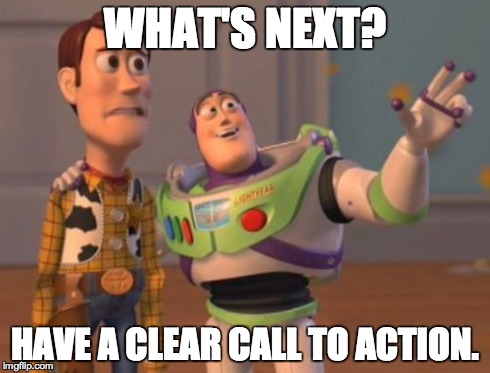 In other words, every marketing email you send needs a call to action, which should be included in your subject line. 
Imagine if this email from Apple provided a wealth of information about their new iPad without including a call to action asking people to buy it. 
You might think the point of the email (buy and iPad) would still be obvious. But it's not. 
Including the word "buy" in the subject line and including a "Shop Now" button are what makes this email effective. 
Other strong calls to action include: 
Sign-Up
Download [Free Trial, Sample, .pdf, etc.]
Watch Video
3. Keep it Focused, Simple and Short
"Simplicity is the ultimate sophistication."
As with so many things in life, when it comes to subject lines, less is more. 
Think about how quickly you scan your inbox. How do you decide which messages to open?
Most likely, the messages you open first are the ones with clear subject lines that don't require a good portion of your valuable brain power to decipher. 
Don't make your email recipients solve a puzzle or click more than once. In addition to creating clear subject lines, make sure your entire subject line is visible. 
40% of emails are opened on mobile devices with small screens, which is a good argument for keeping subject lines at about 4 words.
Keep in mind that subject lines that are around 65 characters are the most likely to be read.
It's also been found that subject lines with "Re" (even by itself) have a higher open rate.
Oddly enough, email messages with no subject line are opened 8% more than those with subject lines.
The biggest challenge is describing the content of the email in as few words as possible. Remember, you have the body of your email to elaborate.
You may find that writing your subject lines first helps you keep the body of your emails focused, too.
With time and practice, clearly explaining your product with as few words as possible gets easter.
4. Value Clarity Over Clever Humor
"An email without clarity is like an annoying mime: Just say what you want or get out the way!"
Marketers are creative people, and it can go against our nature to write a subject line without a clever twist.
But sometimes, we have to. 
According to Amanda Gagnon of AWeber:
"It would appear that while creativity and clever writing are very good things in general (and I still cling to the fact that they're good in the body of a post), they have no place in post titles and subject lines. People want to be told directly what they can expect to find inside, and they don't have time to puzzle out what an overly creative subject line could mean."
And she can prove it.
The marketing team at AWeber divided a list of their subject lines into two categories.
The first list was made up of clear subject lines.
The second list had subject lines that were more creative and catchy.
Then, they tested subject lines from both lists.
For example, they tested:
"Grow Your Email List 99% Faster: How One Site Did It"
against
"AWeber's AWesome Anthony A"
Clarity won by a landslide every time:
The Subject Line Strategy That Gets 541% More Response: http://t.co/uQSj42Da2D

— AWeber (@AWeber) July 19, 2014
If your subject line can be both catchy and clear, go for it.
If not, let clarity win.
"Make the customer the hero of your story … and … good content isn't about good storytelling. It's about telling a true story well."
Asking a question that applies to their own lives will help your email recipients feel like "the hero of your story" and make them curious about the content of your email.
If you're writing to a prospective customer, your subject line can pose a question that hints that you have the solution to a problem they can relate to:
Is your pet shedding all over the place?
Looking for the perfect gift for Valentine's Day?
Trying to decide where to go on vacation?
If you're writing to another business, you can ask questions that are connected to their goals:
Do you need an app to help keep you organized?
Are you struggling to lower your bounce rate?
How long is your email list? 
These questions will get people thinking about their own lives, which will, in turn, help them feel connected to you. 
"Without a deadline, baby, I wouldn't do nothing."
Who doesn't love beating the clock?
Including a sense of urgency in your subject line can increase your open rate by 22%.
Including the word "tomorrow" can increase your open rate by 10%.
Compare the sense of urgency in these two sets of subject lines: 
Join our Live Webinar! 
Enter to Win! 
Extended Happy Hour  
vs.
Join our live Webinar TOMORROW!
Only three hours left to win!
This Week Only – Extended Happy Hour 
Which set do you think is more effective? 
This email from Wonder Workshop gives a 5-day deadline:
We're all motivated by deadlines, which makes us less likely to save (and likely forget to come back to an email with a time limit.
9. Include a List or a Number
"The human animal differs from the lesser primates in his passion for lists."
Sites like Buzzfeed have proven that we all love lists.
Numbers and statistics work well because, even as adults, we are still influenced by peer pressure (or, to use a more scientific term, social proof).
Take this email from Pinterest:
Consciously or not, doesn't that subject line make you want to find out which food and drink pins everyone else seems to like?
10. Defeat the Filters
"I've learned how to use my spam filter pretty effectively."
~ Al Yankovic
Certain words (like "free") might be "eye-magnets," but they may not make it through strict spam filters and prevent your emails from landing in the right inboxes.
Here's a list of spam-triggering words to avoid.
Automatic spam filters shouldn't be your only consideration.
69% of people report email as spam based on nothing but the subject line, especially when a subject line sounds too "salesy."
Negative or insulting subject lines can cause people to ignore or trash your email before they've even read it.
So stay positive as you can.
Compare these two subject lines:
Stop using your ineffective reminder app.
Use SuperRemind and gain more customers.
The first subject line is potentially insulting, whereas the second one is positive without downgrading anyone or anything
11. A/B Test
That which is measured improves.
No matter how many tips you follow, or how much time you spend creating them, you'll have no idea how effective your subject lines are until you test them.
To start A/B testing, choose one element to test, such as subject line length.
Then, send divide your audience into two groups. Send identical emails to each group, one with a short subject line and one with a longer subject line.
By doing this, you'll see which group had a higher open rate, and you'll have a better idea as to how long your subject lines should be.
Keep choosing elements to test, such as subject lines that include:
Numbers and lists

"Re"

A specific location
Eventually, you'll get to know your audience and the types of subject lines they notice.
12. Use Your Email Signature to Leverage the "Power of 3"
We have become proficient at pattern recognition by necessity, and three is the smallest number of elements required to create a pattern.
Mirroring your subject line with your signature creates beautiful bookends for your message. 
If you have a call to action in your email subject line, there's no reason not to repeat it in your signature.
Are you promoting a webinar?
Are you promoting an event?
Or a video? 
By repeating your call to action, you get your point across with your subject line, the content of your email, and your signature.
That's a group of three, one of the most powerful numbers in marketing.
The Takeaway
With an estimated ROI of 38%, email is one of the best marketing tools we have.
According to Nora Aufreiter:
"E-mail remains a significantly more effective way to acquire customers than social media—nearly 40 times that of Facebook and Twitter combined (exhibit). That's because 91 percent of all US consumers still use e-mail daily,1 and the rate at which e-mails prompt purchases is not only estimated to be at least three times that of social media, but the average order value is also 17 percent higher."
But email marketing only works if your messages are read. 
So give your subject lines the attention and time they deserve. 
Keep learning, keep testing, and keep adapting. Before long, your subject lines will become harder and harder, or even impossible to resist.
Don't forget that the emails you send show that you have something great to offer.
With the perfect, supercharged subject line, your email recipients will share your excitement.
What are your tips for writing effective subject lines? What type of subject lines do you find most effective?