5 creative christmas marketing strategies to use this year
Top Christmas marketing strategies that will increase sales and drive traffic to your website this holiday season.
When done right, marketing is a gift. This holiday season, be like Santa: make sure the strategies you use to market your products have something exciting in store for everyone.

Christmas marketing strategies are nothing new. In fact, in 1931, even Coca-Cola notoriously made Santa Claus look happy and bubbly for the first time in history, only to advertise its own fizzy, sugary drinks better. This image change, as we now know, was to last even 90 years later.

It would be fair to say that the Christmas of 1931 took Coca-Cola out of the US and into the international scene. Such an anecdote proves how businesses, no matter how big or small, can successfully become impactful by merely employing a sound marketing strategy around Christmas time.
However, things have changed dramatically in the marketing game since 1931—partly thanks to giants like Coca-Cola itself.

Nowadays, it can be hard to navigate this increasingly interconnected, digital domain without some help. That is why we at WiseStamp have put together this listicle, which we hope you can build on to lay out a top Christmas marketing strategy for your business.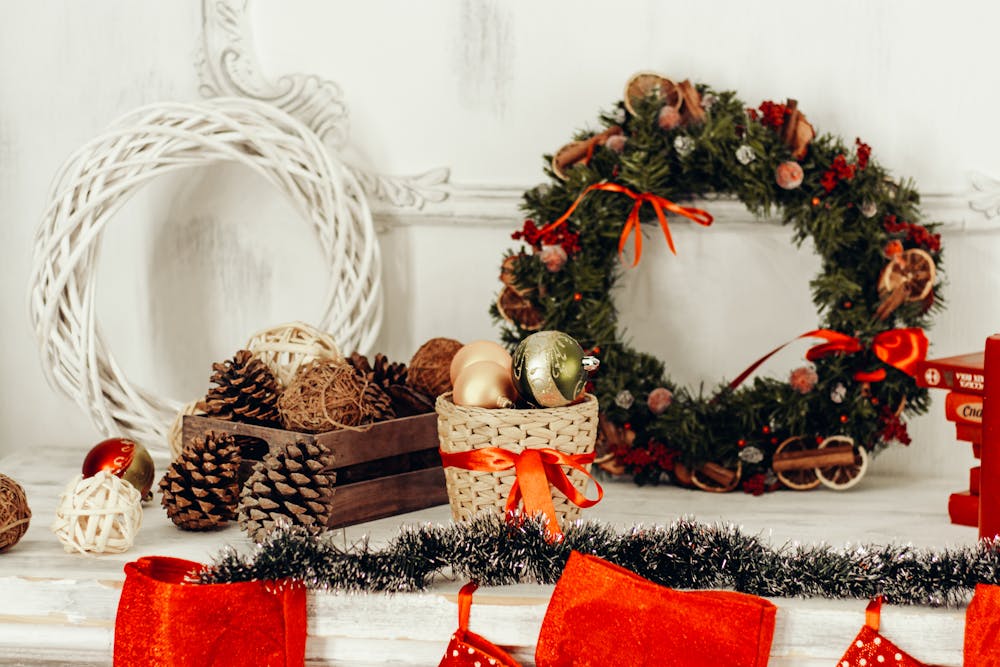 "Christmasize" Your Service (or Products!)
When we say "Christmasize," your mind probably goes to standard practices like turning all product packaging red. Or to add miniature Christmas trees into all of your social media graphics. That is only natural, and we don't blame you.
However, there are many ways to bring the holiday spirit into your business or products. As with any strategy, before making any radical changes, re-investigate your buyer persona(s). Which of their needs is most urgent around holiday time?
After figuring that out, adapt your service or products accordingly. Start with the image of your business. Go on social media, change your cover photo, and start posting!
When designing visuals, keep your audience in mind. Are your clients (past, current, or potential) more likely to respond to traditional imagery or more contemporary graphics? Furthermore, make sure that the copy communicates efficiently.
Here are some examples of traditional and contemporary Facebook cover designs for reference:
In terms of what campaigns you could run, spreading the holiday spirit is made easy by a giveaway or a contest! Everyone likes present around Christmas time, and this is also a good way for you to possibly increase engagement and generate leads on your social media accounts.

Get your inspiration from your buyers' personas, once again. What brands do they stay loyal to, other than yours? Moreover, don't forget to research trending practices on each platform by finding popular accounts with your own follower base.

Speaking of your followers, keep in touch with them by sending warm wishes for the holidays. Place banners to greet them once they're on your landing page, and don't forget to personalize your wishes by sending electronic 'Merry Christmas' cards via email.
Increase Christmas Sales with Generous Offerings
Everyone is giving out gifts during the Holiday Season, and to get into the benevolent spirit, you should partake. Think up ways to market your products, especially your seasonal ones.
Spoil your customers with a coupon or discount, or figure out alternative ways to sell your products—after all, promotions don't have to be wholly benevolent.

For example, you could push your customers a little over their spending limit by applying whatever discount you're offering to the minimum viable purchase amount that would bring you a profit over the course of the Holidays.
End of the year discounts
In terms of discounts, you can start preparing for January by running end-of-the-year sales. If you own a multi-item store, focus on seasonal items: discounts on festive clothing items and sparkly home decor will guarantee an increase in sales.
Otherwise, use this occasion to market your services accordingly. Do you own a cleaning company? Give your clients a discount on end-of-the-year cleaning packages.
Offer Coupons
Another way to increase sales is through coupons. If you pick those of the BOGO type—that is, Buy One Get One (free)—go down the "spoil a loved one" marketing route. Once again, always keep the context in mind: it's the Holiday Season, so everyone loves an opportunity to give a present to someone about whom they care.

A unique strategy to use promotions for Christmas is through an advent calendar. What that implies is 24 single-day promotions leading up to Christmas Day.

If you can find 24 unique ways to market your products, this should be your go-to: it's one of the most engaging campaign formats around this time of the year.
Get emotional with your Christmas Ads
Christmas is all about giving to others, and people hate to be bombarded with advertisements around this time of the year.

That is why, if you want to be strategically efficient, you should shift the focus off the product itself and towards storytelling. How does your product help spread the Holiday joy?
Take, for example, by a German mail-order pharmacy, Doc Morris. When watching it start-to-finish, the storytelling is so immersive it's almost impossible to hold back tears.

But what does this ad say? Why would a pharmaceutics vendor emphasize the importance of exercising, you would ask?
Successful Christmas ads rely on subliminal messages. In this ad's case, the purpose of this message is to emphasize the importance of being in good health for your loved ones.
Notice how there are no words in the entire video, apart from the CTA at the end.

In this case, the storytelling, accompanied by the music and the montage, undermines copywriting. This goes to show how words aren't always necessary for memorable marketing.
Embrace email marketing
In contrast with social media, email marketing is much more personal, and "personal" is what Christmas is all about.

In this way, you can create a tight-knit community that will be connected by the interest in your business that its members share.
First of all, of course, you should send out a newsletter with all the season's unique offerings.

Keep your subscribers in the loop, but don't market too aggressively. Always check in on the status of your KPIs and adjust your marketing strategy accordingly.

Always design your newsletters in the Holiday spirit. Add personalized Christmas greetings into your signature, and make sure the general feel your email gives off is in tune with what you yourself would like to receive in your inbox.
Invest in paid advertisements
Running paid advertising campaigns is paramount around this time of the year. As everyone rushes to buy and buy, your business must be the one they should reach first.
This is an excellent time to put your money into a good lead generation campaign, to start with the basics. Start thinking about, and eventually developing, a lead magnet ahead of time. Then, write a post on your blog about it and run a paid social media campaign to advertise it.
Make your lead magnet relevant to the Holidays: for example, if you're a graphic design company, you might give away some free Christmas-themed social media templates for your subscribers to draw inspiration from.
Moreover, brand your lead magnet. This way, one could say you hit two birds with one stone: in addition to getting new leads, you also increase your brand awareness.
When it comes to boosting sales, you could go down the easy route and promote your products, with seasonal at the top of your priority list. However, if you're willing to embark on more logistically intricate campaigns, we have an idea for you.
Throughout this article, we've talked about creating and maintaining tight-knit communities. One idea to foster that is pretty straightforward: organize a Secret Santa campaign! Let us give you more details:
If you create a landing page specifically for this campaign, everything that the site visitors should do would be to sign up for an account on your website. This way, they can not only start shopping but also give you their data.
They would be instructed to create a public wish-list where the products would be limited to a specific price tag. Then, all players will be divided into pairs and send each other gifts. However, they won't have any information about each other unless desired after the present has reached its recipient.
While more logistically challenging to organize, this method boosts sales and collects data from site visitors. Finally, it encourages them to contact each other no matter where they are in the world.
How To Maximize The Christmas Season Sales Online
Christmas: it's the most wonderful time of the year, and not just for the kids jingle-belling either. It's a chance for brands to boost their sales with seasonal marketing that taps into the festive spirit. But increased sales aren't just for Christmas. Here are some tips you can use to maximize your online sales for seasonal events throughout the year.
Appeal to your customers' seasonal pain points
Our emotions are naturally heightened during seasonal events. Between planning the food, buying gifts, and dealing with that great-aunt who insists on kissing you on the lips when she sees you, seasonal events can be tough. For customers, it's a difficult time. But as brands, you can play on that to maximize your online sales.
Identify in advance specific pain points that affect your customers during different events. For example, your customers might be concerned about spending too much at Christmas, so highlight your generous savings as a counter.
And at Thanksgiving, there's a lot of pressure on the head chef of the family to cook the perfect turkey. Why not create a video showing your customers how (featuring your product, naturally)?
Useful content like this can help drive traffic to your blog, which in turn gets your products seen by a wider audience.
Take this further with countdown timers in your emails to create a sense of urgency as the big day approaches. Combine it with some FOMO-driven copy to needle your customers into shopping with you. Pain points are great for driving sales, so take advantage of them.
The early bird gets the worm
How many times have you promised yourself that you'd do your Christmas shopping early this year, only to find yourself panic-buying juicers on Amazon Prime a week before Christmas Day?
The truth is, the earlier you start the better. And it's as true for your Christmas shopping as it is for your seasonal marketing.
Start your marketing campaigns early. I don't mean sending out a Christmas discount email in the middle of June of course, but giving yourself at least a couple of months lets you build a slow-burning campaign that builds to a crescendo.
Don't go too hard too early. Just a little reminder here and there to begin with to pique their attention, and then gradually build up to a solid seasonal campaign.
You can use this extra breathing space to create a seasonal loyalty scheme, starting a month or so before the event and ending in the month running up to it. Points earned during this period can be used during the final run-up to the event, keeping them locked in with your brand for a sustained period.
Increase your mailing list with a seasonal lead magnet
Email marketing is an important part of any seasonal marketing strategy, and this is especially true for seasonal events. And the bigger your mailing list, the wider your reach is. You'll have more people you can push your products to, increasing your online sales in the run-up to the event.
While you've likely got a sizeable mailing list already, it's worth adding to it as seasonal events roll around. And what better way to do that than with a lead magnet? Lead magnets are digital pieces of content that customers can download in return for their email address. They're free for the consumer, free (or at least very affordable) for brands to make, and they're great for building email subscriber lists.
While lead magnets can be used throughout the year at any time to build mailing lists, creating lead magnets that tap into the seasonal mood. For example, a gift guide blog post featuring product ideas for every member of the family is a standard for brands. But a downloadable gift guide ebook to inspire you on your commute to work? Even better.
Seasonal lead magnets work. Create a Halloween decoration guide using a good flipbook creator like Designrr, then create a dedicated landing page and direct customers to it using paid social ads.
A strong lead magnet that your prospective customers will genuinely want populates your mailing list with qualified leads in the run-up to seasonal events. This both boosts your sales in the short-term, and widens your reach in the long term.
Add a decorated holiday email signature
As we just mentioned above, email marketing is critical to your seasonal sales. And here's another great way to make the most of it: Add a Christmas email signature to your outgoing email during the holiday. This will make sure you stand out and gain favor by bringing smiles to your readers.
A seasonal banner is a great way to promote your holiday sales, products and simply spread holiday cheer. See how the email signature example below uses a banner to promote a Black Friday sale. You can easily add a seasonal banner to your signature by using the WiseStamp email signature generator.
Create a pop-up shop to drive online sales
While pop-up shops might not immediately seem to maximize online sales, they're actually great drivers of digital revenue. Create a pop-up shop a month or two in advance of the event in question (but not so far back that it's irrelevant) and sell your products in a brick-and-mortar setting. These events are great for capitalizing on real-world footfall in malls and Main Street. You can also participate in local retail pop-ups and events.
But it's not just about instant offline sales. It's a chance for you to showcase your online products to an offline audience, raising awareness of your business with customers who might not have experienced it before.
Even if you don't sell your products, simply hosting a pop-up shop with some samples is enough to get your brand at the forefront of shoppers' minds in the run-up to seasonal events. If you do decide to sell offline, offer your customers a receipt via email. This is a chance for you to build up your mailing list as the event approaches, presenting you with more marketing opportunities further down the line.
Final thoughts & Season's Greetings
When emailing for business, consider adapting your email signature and opening line. We recommend you change both the design and the wording so that your signature stands out.
At WiseStamp, we offer our clients icons that they can use to add a personal touch to their communications. Check out our offerings and guides, and we hope you've found this article and others on our blog helpful.
Happy Holidays and Merry Christmas!