With Halloween around the corner, it's high time to work on your Halloween marketing ideas and Halloween-ify your business. Whether you have a physical location, like a store or a restaurant, or your business is based entirely online, there are ways to get you and your clients in the holiday mood.
You may be thinking that promoting Halloween isn't right for your business. Perhaps you worry it doesn't fit your brand or your clients won't respond to it.
You can still stay true to your business, brand, and clients all while celebrating Halloween in the right way. In fact, Halloween can be a great way to promote new products, get creative, and most importantly, keep your business fresh in your client's minds before the upcoming holiday season.
Here's a spooky stat for you: in 2019, Americans spent 8.8 billion dollars on Halloween with an average spend of $86.27 per person. With spendings like that, every business should want a slice of the (pumpkin) pie.
How to do Halloween marketing offline
From traditional to more unique Halloween celebrations, there are many different ways to thrill your clients this year. Decorating is only one way to get your shoppers into the spirit. There are plenty of other ways to treat them. Here are a few of our recommendations.
1. Run a Trick-or-Treating event
A simple way to do this is to hand out small candies or a freebie at the cash register when clients make a purchase. It's a relatively cheap and easy way to make your clients smile and remember their shopping experience. You can also team up with a few stores nearby to run a safe trick-or-treating event for the local kids. Parents will surely appreciate businesses that go out of their way to set up a safe environment in the midst of COVID Halloween uncertainty.
But, why should kids get to have all the fun? You can make your trick-or-treating more grown-up-friendly by turning it into an event at your store. Hand out discount coupons to clients at the door, hook them up with a Halloween-themed bag to use while they're shopping, and if you can, offer free samples of products throughout the store as treats.
2. Discounts for Dress-ups
Offer a discount to anyone who comes to your store dressed up on Halloween. Instead of a discount, you can also offer a free gift with purchase.
The benefit of this tactic is that you'll get clients who come to your store in good spirits, your employees will get a kick out of it, and it also encourages shoppers to post online about their costume or the promotion. You can even set up a decorated photo station in your store where costumed clients can snap a photo and post it with a branded hashtag for an extra promotional item or discount.
3. Throw a "Guess-How-Many" contest
You've probably seen those jars filled with jelly beans or candy corn where people are asked to guess how many are inside in order to win a prize. You can use the same concept for your business. Pick the candy (or another small object) of your choice and a spooktacular grand prize and set up a big jar somewhere noticeable in your store.
In order to participate, clients need to jot down their guess with their email address, and as a bonus for you, they'll need to agree to sign up for your mailing list.
4. Offer Halloween-Themed Products
This is a fun and easy way to create buzz and excitement with a limited time offer. It's simple to do if you have a business where items are made to order or change depending on the season, such as a food-related business.
For example, you can create special limited-edition baked goods that are decorated with a Halloween theme or include unique flavors. Run a special Halloween-themed menu at your restaurant or cafe, or create a Halloween-themed course if you offer services like fitness or cooking classes.
5. Add some spooky decor
Perhaps the most obvious way to prep your small business for Halloween is to decorate your place of work. Aside from the standard fall and Halloween decorations like pumpkins, leaves, ghouls, skeletons, or cotton spiderwebs, there are other ways you can create a festive atmosphere that may fit better with your business's brand.
Think outside the box when it comes to Halloween decorations. For example, you can create a creepy window display if you want to go with a scary theme. Or, go for a more chic theme with a display of fall-inspired hues like muted oranges and reds to promote new products or limited-time Halloween specials.
Use items like colored balloons, tablecloths, streamers, or colored light bulbs and get creative. You can also create a Halloween playlist mixed with holiday classics and modern favorites.
6. Treat your clients to deals and discounts
Aside from offering discounts to clients who dress up, you can still create special promos and deals that run through the month of October.
To add some time-sensitivity, you can run a different promotion each week that focuses on a different product or service. By offering discounts that have a time limit, you're creating a sense of urgency which will make shoppers want to make quick purchases. It will also entice them to spend more if they're offered a good discount on a popular item.
7. Get into the local spirit
It's always nice to be a part of your local community, and your clients will surely take notice. One way to do this is to get involved in local Halloween fairs or events. For example, you can have a table selling your products, be a sponsor for a Halloween event, or even donate a product for a raffle.
Another way to do this is to use Halloween as an opportunity to give back to those who are less fortunate. You can ask clients who shop at your store to donate a small "treat" to a charity you're collecting for or let shoppers know that a portion of proceeds from your Halloween-themed products will go to a local charity or organization.
How to do Halloween marketing online
If your business is online, then you can't take advantage of the different ways to Halloween marketing for your store. But, not to worry. There are still plenty of ways to use Halloween promotions online and to take advantage of the holiday spirit. Here are some great Halloween marketing campaign ideas.
1.Decorate your website with a Halloween theme
Your website is like your storefront, so instead of creating fun window displays, you should focus on getting your site ready for Halloween. Your customers will be pleasantly surprised (or spooked, depending on how well you designed your theme!) when they land on your websites and it's all decked out in Halloween decor.
You can add creepy web effects like rolling fog, switch to a darker website theme, or add some playful ghouls or witches around your website. Another fun way to do this is to give your logo or mascot a Halloween costume. Make sure to concentrate these Halloween decorations where it matters, like on banners, CTAs, or even welcome pop-ups.
2. Offer Halloween freebies with purchase
Discounts are nice, but free treats without any tricks are nicer. Offer your clients a free Halloween treat with a purchase on your website to entice them to shop. You can make it a Halloween-themed limited edition gift, or simply some samples of a new product you're launching.
Be sure to market this promo on your website, so include it when you think up your Halloween web design and place it in noticeable areas like your header, a pop-up, or even in an email campaign.
3. Get social this Halloween
Don't disregard the power of social media when it comes to promoting your business or holiday deals. You can use social channels like Instagram, Tik Tok, or Facebook to begin creating buzz around your Halloween campaign.
One way to do this is to run a photo contest through your social media. Ask your clients to upload a photo in a costume or even with one of your products if it's relevant and create a branded hashtag. Or, ask them to share their Halloween decorations or recipe ideas on social media to compete for a grand prize. User-generated content is a great way to get clients engaged and to increase brand awareness.
Looking for other contests ideas this Halloween? Check out suggestions for five more Halloween contests you can run to boost your marketing.
4. Who says you can't trick-or-treat online?
As many people will likely avoid celebrating Halloween in person in 2020, they'll look for other ways to get into the spirit of the day. Host an online trick-or-treating event for your clients to find special promotions or items. You can even make a game out of it by doing something like hiding promo codes and asking your clients to find them on your website, scavenger-hunt style.
It's a good idea to make this a timed event so that it feels more exclusive. Promote it as much as possible in the weeks leading up to the event, and then on a certain day or between specific hours you can put a game on your website or introduce a limited-time discount code.
5. Generate Halloween-themed content
Do you have a company blog? Now's the time to get creative and find content that's tied to the holiday, even if it's just loosely. Have some fun with your current content marketing strategy by crafting content that is seasonally-appealing. Use a few fun Halloween marketing puns and publish some creative posts that could be related to your business.

For example, you can create a blog post about Halloween recipes to make with kids, DIY costumes using pieces from your clothing store, or even just add some Halloween themed keywords to a marketing piece.
6. Add some treats to your email marketing campaign
Don't forget about your newsletter this month! As with any holidays, clients have come to expect promotions and deals when a holiday rolls around, and Halloween is no exception. Use your email marketing campaigns to promote upcoming promotions, online sales events, or to introduce limited-edition Halloween products.
7. Create a branded Halloween video
If you normally release online promotional videos or product commercials, then add a Halloween theme to increase video engagement. Video marketing is highly effective for small businesses, so don't overlook adding a seasonal theme to make your videos even more memorable. Grab people's attention with a scary video, or reel them in with a lighter comedic tone.
For example, LG's "So Real It's Scary" ad (video below) went viral for setting up their new monitor as an elevator floor that suddenly collapses. Don't be afraid to get creative with your Halloween marketing videos, you never know when you can go viral!
8. Add a Halloween email signature with a holiday campaign
A really cool thing you can do to bring Halloween to the front of your online marketing effort is dressing up your email signature for the holiday and effectively Halloween-ify your email signature. The WiseStamp email signature generator makes this extremely easy each year, by giving your signature a halloween theme with specially designed banners, GIFs, social media icons and more.
If you're already signed up to WiseStamp all you need to do is click a button! Otherwise, first sign up to WiseStamp then you can enjoy a new email signature and already reap the added benefit of Halloween-ifying your new email signature.
Most marketers send tens, hundreds, or even thousands of holiday emails, and having your email signature designed for halloween is bound to make a great impression on your prospects. Especially if you include a CTA with a special halloween offer in your signature block.
Drive more sales with a Halloween email signature banner
Each year we create a bunch of designs and themes you can choose from. Each Halloween banner celebrates the Halloween spirit with classic Halloween imagery: Pumpkins, friendly ghosts, candy corn, and more! You have the option of a still banner image or a GIF banner to really grab attention.
A few examples for our Halloween banners:
Takeaways
A lot of business owners overlook Halloween since it's not as big or as commercial a holiday as others, like Black Friday or Christmas. However, to ignore the sales potential of Halloween is a big mistake. If anything, Halloween comes at an opportune time before the "shopping" holidays, which gives you a fantastic opportunity to test out new Halloween marketing ideas and strategies to see what works and what needs to be tweaked.
So, whether you have a physical business location or your company is based entirely online, you should definitely be using at least one, if not more, of our Halloween marketing tips to get more traffic to your business during the holiday. If nothing else, your clients will welcome the thought and effort you put into entertaining, frightening, and delighting them this Halloween season.
5 Freaky Halloween marketing campaigns that Rock
Halloween is a great opportunity for companies to show the fun side of their brand through creative marketing campaigns that will get people talking. Here are 5 of our favorite Halloween marketing campaigns:
1.Trulia – Halloween real estate marketing example
If you're looking for a new home with Trulia, you might want to wait to keep your eyes out for ghosts… Trulia really knows how to get into the holiday spirit, and last year's Halloween marketing campaign included a haunted house prank that went viral. Watch this video to see how they pranked unsuspecting house hunters by rigging up a house with falling books, screaming dolls and a "dead grandma" popping up out of the bed.
Aside from sharing links to the video, which continues to receive high amounts of traffic, this year Trulia is keeping in the holiday spirit by highlighting on their Facebook page a different haunted house each day. They also created maps of "Unnatural Hazard" highlighting locations of zombie infestations, ghost sightings, and vampire bites, which they shared on Twitter.
2. Target – virtual reality experience
Target has created a fantastic virtual reality experience through a series of YouTube videos that allows viewers to explore various creepy rooms using their smartphones. By tilting the phone's lens, viewers can get a 360 degree view of each room, for an eerily realistic experience.
Target also scored some major points this year with parents of special needs kids by including in their advertisements a little girl with crutches and leg braces dressed up as Princess Elsa.
3. Tesco – in-store setup
A Tesco supermarket in London had some spooky fun with their customers this year with haunted shopping cards, bloody severed hands in the freezer and ghostly heads hiding behind the paper towels.
Hidden cameras were also put in place to record the shoppers' startled reactions so that the internet can enjoy the fun as well.At the end of the video viewers are invited to learn how to create for themselves some of the effects they just witnessed, making the video campaign both entertaining and educational. Just five days after being posted, the video garnered 1.3 million views.
Checkout some useful how to videos for creating cool props for your Halloween marketing campaign:
4. Victoria, British Columbia – dressing up city streets
The City of Victoria is pulling out all the stops as they transform their downtown area into a spooky Halloween metropolis. Pedestrians strolling down Fort street will likely be startled as a portrait of a beautiful woman slowly mutates into a horrifying skeleton.
The city has also commissioned a local artist to create ten black cats with solar powered illuminated eyes, which will be installed throughout the downtown area, because nothing says creepy like a black cat with glowing eyes. And, of course, there are plenty of haunted houses to explore, as almost every building in downtown has its own ghost story.
5 trick or treat Halloween contest ideas to boost your Halloween marketing
Halloween is right around the corner, and it's time to figure out how to use this fun holiday to boost your business. Adding any or all of these Halloween contest ideas can help you connect with customers, reach new ones, and have fun with your marketing.
A simple spooky giveaway
Description
This contest is a simple spooky giveaway that you can use to boost your business. You can choose merchandise, product, or even gift certificates to give away. The trick is keeping track of all the entries without stressing yourself out.
Rules
The trick to a good giveaway is specifying what counts as an entry. It's best to make it something that people fill out for legal purposes, like a card that gets dropped in a jar. You have a number of digital options with free trials if you want to try this Halloween marketing tactic.
For practical purposes, you need the name of the participant and a little bit of contact information. Generally, email works well, but it is up to you. You can also use mobile phones or physical addresses.
You also need to set up the rules of entry into place. Items like one entry per person can help your Halloween contest idea. After all, everyone wants a level playing field. You can also use additional entries as an incentive for completing specific tasks like checking in on Facebook or posting pictures on Instagram.
Benefits for Your Business
First, this type of giveaway is fun for the season. Giveaways attract new customers and let you gather information about old ones. The information, in particular, is invaluable. Contact information to add to your regular email list is valuable.
Halloweenify your photo giveaway
Description
The idea with Halloweenifying is picking out your shops' aesthetic for the season. Often, that's finding an image and re-posting it with your business's hashtags. Then you can have people do a like-comment-share or other sequence of actions. If you decorate your shop, you could even use that for this Halloween marketing.
Rules
It's essential to actually enforce the follow/page like functions. People using either one receive your marketing regularly. You should specify that the person must follow at least until the contest ends, and by then, most people will not bother to unfollow.
Restricting it to one entry per person is also a practical choice for this Halloween contest idea. While uncommon, people do have multiple social media accounts for business and personal use. Allowing more than one entry is unfair to those who follow the social media platform's terms of service.
Additionally, it would be best if you also considered the share function in the contest. Requiring sharing is a tightrope, as some people will want to keep their wall uncluttered. Those are missed customers. On the other hand of the issue, sharing increases the chances you will find your next business superfan.
Benefits for Your Business
Halloweenifying your photo giveaway is also a useful publicity action. You can show how your shop understands the people you are selling to and a little more of your brand story through the image. It can also be part of your more extensive participation in community events.
Additionally, you can boost your business through networking. If several companies use this idea, you can set up bonus perks that customers would like easier. It's an excellent option for a downtown area.
Customization Halloween Contest
Description
People love to be asked their opinion, and a customization Halloween contest uses that idea. For this Halloween marketing idea, people create sketches of what they would add to your existing product or service. They then submit it for your consideration, knowing you may not choose any to bring to the real world. Then you can select the winner or allow a vote on the various ideas.
Rules
You will need to decide if you want to allow group entries or restrict them to individuals only. Limiting the contest to individuals only helps this Halloween contest idea remain fair. However, groups may produce better idea outlines.
You will need to decide if you want to allow group entries or restrict them to individuals only. Limiting the contest to individuals only helps this Halloween contest idea remain fair. However, groups may produce better idea outlines.
You will need to decide if you want to allow group entries or restrict them to individuals only. Limiting the contest to individuals only helps this Halloween contest idea remain fair. However, groups may produce better idea outlines.
Benefits for Your Business
Customization contests are a great opportunity to offer something unique to use as a prize. After all, it is a creativity contest. You may even find yourself working with some art influencers to increase the Halloween contest idea's reach.
Using this type of Halloween marketing is also a great networking opportunity. You may get a bevy of ideas that are not right for your shop, but they are for the shop down the street. Sharing those with that business owner costs you nothing.
Partnership Giveaway to Boost Business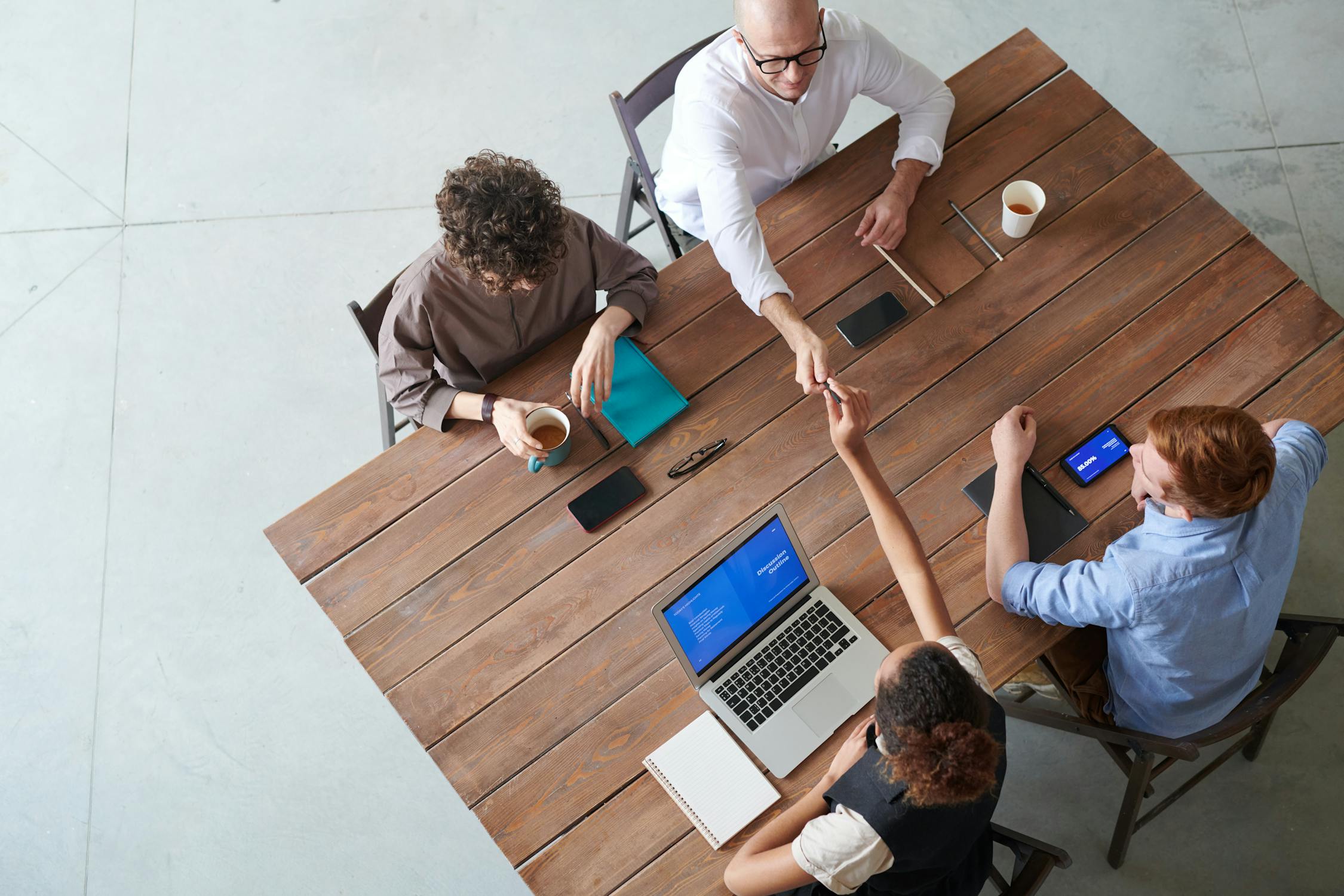 Description
Having your own Halloween contest is tempting. However, two heads are always better than one. A partnership giveaway involves two or more businesses giving things away together. You could create a spooky gift basket or keep it more normal with a crate. Then people enter, and one lucky winner gets the whole package.
Rules
You should definitely limit entry to one per person. Otherwise, you will be bombarded. However, the higher value of this prize may warrant that you allow people to enter multiple times in the contest period when they complete certain actions that help boost your business.
You should also firmly establish a deadline in conjunction with the other business owners. That way, there is no confusion as everyone does their own Halloween marketing. After all, meeting deadlines is the responsible thing for your customers to do.
Benefits for Your Business
This Halloween contest idea offers collaboration, which is always beneficial. You're working with one or more other businesses that are in the same or similar to your own. Working together is an excellent opportunity to network and bond with other business owners who will return the favor.
A partnership giveaway is also a good boost for your business's audience. By necessity, your name, logo, and more will appear in front of the other companies' audiences. You will likely attract new customers to your shop audience through this exposure.
Depending on how you handle it, a partnership giveaway is also a fantastic publicity opportunity. Each business combines clout to succeed, and there are even more opportunities for positive impressions.
This partnership giveaway also sets you up for further collaboration around the holidays. People love when businesses work together instead of tearing each other down. You may also find your fellow shop owners want to come up with new baskets, thus increasing your sales.
Feedback Contest
Description
A feedback contest involves people providing honest feedback in exchange for their entries into the contest. This type of feedback can use free survey technology, making it easy for you to manage. Then you weed out the improper feedback people blew off and select a winner from those who were genuinely interested in your business.
Rules
The first rule of a feedback contest is one entry per person per contest period. For Halloween marketing, that might be the two weeks before October 31st. This means that you will get feedback from individuals, rather than one person hoping for many entries.
The other significant rule is that the feedback provided must be genuine. Otherwise, it does your company no good whatsoever. You can weed out the entries that obviously went through to check the boxes and put no effort into helping your business grow.
Benefits for Your Business
The big benefit of a feedback contest is that it tells you what is and is not working for your business. This feedback allows you to retool your approach and course correct. This Halloween marketing idea is great regardless of your business size. Good feedback means you can boost your business growth by changing the right things.
Final Thoughts
Halloween marketing can be challenging to figure out. Using these five Halloween contest ideas can help simplify the process, so you do not miss this fabulous opportunity to get in front of your ideal audience. After all, everyone loves a good holiday idea.
None of these Halloween marketing ideas are difficult or time-consuming to implement. You likely spent more time decorating your shop for the holiday. It's a matter of deciding what rules you would like the contest to go by and putting up the post on your channels. From there, you can randomly select the winner easily.
Marketing for Halloween that works does not need to be a nightmare, and it's an amazing opportunity to boost your business beyond regular holiday sales. Let's save the scary stuff for the costume contests and trick or treating.