In this guide, we'll walk through the major digital marketing assets and strategies that business use to attract customers. We'll also lightly cover the two different strategies that support different digital marketing assets any small business must use.
In this article we will cover:
Email marketing
Email signature marketing
Social channels
Website
PPC and SEO traffic
Listing Services
Why your business must be online?
As a small business owner, you can't avoid the terms "digital marketing" and "online marketing". But what exactly does it mean and why is it important for your business?
In the most basic terms, digital marketing refers to any activity or strategy that you use to market your business—product or service—online. And bear in mind that "online" includes on a desktop, laptop, tablet, smart phone or any other mobile device you can think of!
You can dive deep into the world of digital marketing, and because it relates to the digital world, it keeps evolving. New tools and strategies for digital marketing are constantly being developed. But don't let that overwhelm you. As a small business owner, you simply need to understand the basics of digital marketing so that you can pick and choose the activities that work best for your business.
And, no, digital marketing is not just for online businesses and e-commerce. Even if you have a physical business, like a store or yoga studio, you still need to understand and utilize basic digital marketing activities in order to reach customers. Why? Because consumers are spending more and more time online.
According to a recent Pew Research study, about 25 percent of American adults report that they are "constantly" online and 75 percent of American adults go online at least once a day. Sounds like a lot, right? Well, you can expect it to continue trending upwards. Approximately 75 percent of consumers research a business online before making a purchase.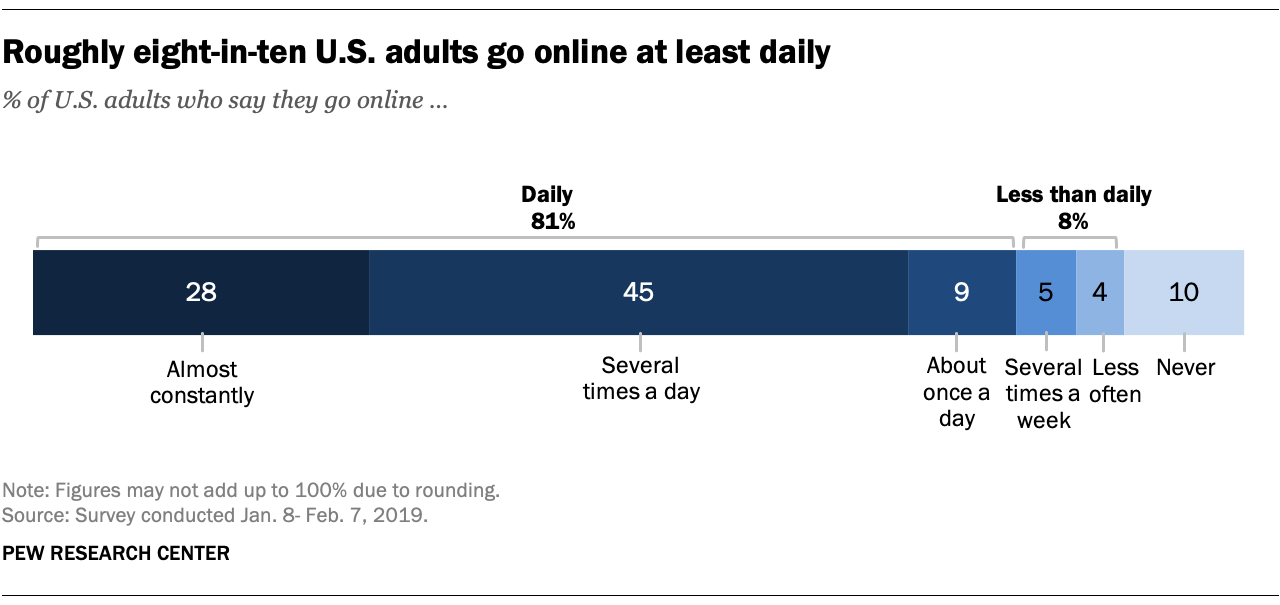 That means your business needs to be online, actively digitally marketing to consumers so you can find them even before they find you.
So where do you start?
The most important thing to understand is that there are a variety of digital marketing assets and strategies. Think of digital marketing "assets" simply as tools and platforms that allow you to reach your target audience online.
So, let's dive in! Here are the basics of digital marketing that every small business needs to know.
1. Email marketing – Channel
Email marketing is a channel that allows you to reach your customers and audience via email. Although email is one of the oldest of all digital marketing strategies, it is the most effective when it comes to ROI (return on investment) – meaning that for each dollar you invest into it, it returns more than every any other channel.
There are many advantages to email marketing. For starters, it is a direct line of communication between you and your customers. You send an email, and it reaches your customers directly into their Inbox.
There are also many different approaches you can take when it comes to the content of your email marketing, which can be organized into "campaigns."
What are email marketing campaigns?
An email marketing campaign is a goal-oriented email you send to your email subscribers. For example, you can have an email campaign about a seasonal sale or a new release of products or services. A campaign is focused on a specific announcement with the intention to have your customers take a particular action in response.
And, NO, you do not need to be a graphic designer or email expert to send successful email marketing campaigns that your customers actually open and click through. There are a number of easy-to-use tools to help you design professional looking email campaigns and also automate them to send when you want.
The most popular and user-friendly email marketing tools are:
MailChimp – One of the most popular and robust email marketing platforms. Offers different pricing plans for various business needs.
vCita — A small business management tool that includes an easy-to-use email marketing tool. Easily design email campaigns based on professional templates and automate them to send when you want!
TinyLetter — TinyLetter is great for beginners and was designed by MailChimp. Best of all, it's completely free to use.

2. Email Signature Marketing – Channel
We are a culture of email senders: Roughly 111.1 billion consumer emails are sent and received each day. If you want to make the most of your email marketing, then you have to use an email signature.
The beauty of an email signature marketing is that is can be used to generate interest in what you offer even when the content of your email is not about trying to sell anything.
Every email you send will passively expose you reader to your basic business offer. You never know if the person reading your mail is looking for what you offer and is primed for buying. With a well thought out email signature marketing setup every email becomes an opportunity to generate leads.
For example, let's say you're having an email conversation with a customer about a customer service issue. The customer has requested to change the shipping address of an order they just placed. This is not the time to start marketing an upcoming sale or new product as you handle the customer service request. But, your email signature can do the marketing for you.
All you have to do is use set up a clickable, dynamic email signature, which instantly becomes a marketing tool! A dynamic email signature, like WiseStamp, allows you to add promotional banners, photos, and other media to your email signature that enables it to act like a piece of marketing within each email you send, no matter the content of the email. It's a clever, non-intrusive way of promoting your product or service within your emails even when they are not focused on marketing.
3. Social Media – Asset
Social media marketing is a subset of digital marketing. The amazing thing about social media marketing is that it has millions of users who you can target based on their demographics and interests. Let's take two of the most popular social media platforms: Facebook and Instagram.
If your business has a Facebook Page or an Instagram Business Profile, then these are your social media assets! They are super easy and free to create, and have the potential to reach hundreds, thousands and even hundreds of thousands of people on social media depending on your social media strategy.
How you market your social media assets?
When it comes to social media strategy, you have two approaches: organic growth and paid growth. As the name implies, "organic growth" means that you reach your audience organically by sharing content on your profile and engaging with other profiles. And "paid growth" means that you buy ads on the platforms (Facebook and Instagram) to drive traffic to wherever you want. You can send people to your Facebook Page or your website, for example.
Both strategies are effective when done right, but there's a lot to learn that we won't cover in this article. For now, just know that it's very useful to set up your social media assets (a Twitter, Facebook, Instagram and/or LinkedIn account) and to share relevant content to them multiple times a week.
4. Website – Asset
Here's one you've probably hear of before: a website! Your business' website is one of its most important digital marketing assets. If you don't already have one, we highly suggest creating one. (Here's a helpful article we've written on how to choose a website builder for your small business).
The best thing about having a website is that you are in complete control of it! Unlike with social media assets, like a Facebook page or Instagram profile, you get to design your website from the ground up and include the elements and information that is most relevant for your business.
For example, a wedding photographer's website needs to have a beautiful gallery to showcase their portfolio. Meanwhile, an e-commerce website has to be designed as an online store that is easy to navigate.
You don't even have to be a graphic designer or computer programmer to create a beautiful and functional site. There are a variety of website builders that help you create a site based on templates that you can personalize to fit your needs. If you are looking for a one-page website that's much simpler, then you can use WiseIntro.
How to drive traffic to your website?
The only trick is driving traffic to your website. For that, you can use two strategies:
1. SEO – Search Engine Optimization
SEO is an organic growth strategy for driving traffic to your website. It involves using keyword terms in the code and content of your website in order to show up in relevant search results on search engines like Google and Bing. When you search something in Google and see results, those results are powered by SEO.
2. PPC – Pay Per Click (Paid ads)
PPC refers to paid growth, or simply paying money to show ads on different platforms such as google, facebook, instagram, Linkedin and more, and drive traffic to your website. There are several ways to invest in paid growth such placing ads on Facebook and Instagram (or sponsored content), placing ads on Google or bidding on keywords. You can control these ads to display only to a specific audience and also put a cap on how much you want to invest. PPC can produce a high ROI if you write an effective ad and run the numbers correctly. But it does involve deeper research in order to start seeing strong results.

If you want to read more about PPC visit our online Academy on the Paid Ads lesson.
5. Online Listings – Channel
Before you can even start driving traffic to your website with SEO or PPC, you first need to make sure your website is listed on search engines and local listing sites like Yellow Pages.
Listing your website is a really simple yet critical piece of your digital marketing strategy; it allows your business to get discovered online when people conduct online searches.
Luckily, it's super easy to list your business online, and you technically don't even need a website to get listed (you can list only your store address and hours, for example, in local listings). You can use an online listings tool like WiseKick to list your business on the top-ranking search engines and directories.
The process is super quick and easy, and you only need to do it once! You only make changes to your listings if you've updated your business information such as the website address, physical address, phone number or hours of operation.
The Takeaway
When it comes to digital marketing, you can really dive deep into an endless rabbit hole. New tools and strategies keep developing as the Internet becomes more and more sophisticated. But there is no need to become a digital marketing expert. You simply need to understand the basic tools and strategies we've listed above in order to take control of your own digital marketing activities.